Just released book, "Colorado's Highest", is now available at wogrinart.com
"Wogrin catches the magic of the mountains in Colorado better than any living artist I know. It is almost as pleasurable owning one of his canvases as it is to view the peak in person."
Christopher Forbes - collector, vice chairman, Forbes, Inc.
About the Artist
Throughout his career, R.L. Wogrin has been a creative force. He designed influential ads as a founding partner in one of Denver's most acclaimed advertising agencies. As an Architectural Artist he illustrated the face of many iconic mid-century modern architectural gems. He also sharpened the skills of his students while teaching at the Colorado Art Institute. Wogrin made an impact in all his endeavors, so it was no surprise that he made a similar splash when he pursued the fine arts, capturing landscapes of the scenic American West.    
Wogrin first gained attention in 1980 when he began a series of paintings depicting all 54 of Colorado's famous 14,000-foot peaks. This collection garnered much attention as the George Phippen Memorial Museum acquired one piece and the Forbes Magazine Collection purchased three of the "Fourteener" painting from the "Sangre de Christo" range for their permanent art collection.
True to his Colorado roots and western landscape focus, his current subject matter focuses on mountain scenery, coastal settings and the desert canyons in the Southwest. His impact, however, is far-reaching as he has received awards in juried art shows nationwide, including the prestigious American Artists Grand National Show and the Knickerbocker Artists Show, both in New York City. Collectors continue to respond to Wogrin's vision as his spectacular seven-foot Grand Canyon scene was obtained by the Anschutz Collection in Denver.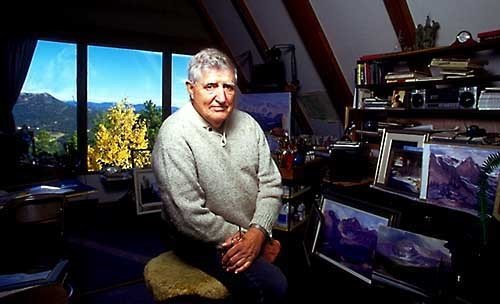 Born in Denver, he has lived in and near the Rocky Mountains his entire life. In his youth, he spent much time in his family's mountain cabin and began a lifelong love affair with the beauty and splendor of the Rockies. Wogrin earned a Bachelor of Fine Arts degree from the University of Denver in 1949. 
Now retired from painting full-time, he shares his love of nature through the stories he created visually with his paints and canvasses.